Thursday, September 29, 2011
Hi all. I'm back... well, it's only take about a second! i just want to put the school activities that we did this morning. I can't wait to share in my blog and share it to my readers especially my friend who are now at Malaysia. I know she is excited to see this.. hehe..
Amal, this is what we did today.. we dances on the stage and sang 'Suasana di hari raya' i know i look dumb but then i willing to do this for SN.. :D
Labels: 2011, blog, Happy Teachers Day, Syawal
♥just smile
10:27 PM

Friday, September 16, 2011
Forever is only the beginning...
Ok this is a story where i can't stop loving this movie and the books indeed! maybe this time i will never judge the movie if it's got a bit different from the book. However i don't mind. I love
Kstew
in this movie. She's trying harder and it'll be no epic fail at all. So after i watched 'Harry Potter part 1-2' i was thinking that 'this is going to be end, it's such a relieve! i'm not going to watch any movie unless if the movie is the most anticipating movie!' then now yes! 'breaking dawn part 1 will beat a million viewers worldwide! believe me!
That is why 'Vampire Diaries' can't beat any Twilight saga at all! especially
Robert Pattinson
. It not going to be lasting forever since the movie will be end in 2012! so vampire diaries still got the chance to win. I love both of them. It was a vampire! what do you expect! Vampire Diaries, True Blood and Twilight Saga. I love everything! so Robert Pattinson dating Kstew huh! who cares. They both are together since Kstew was 17? so now she's 21! who cares! huhu... that's Hollywood!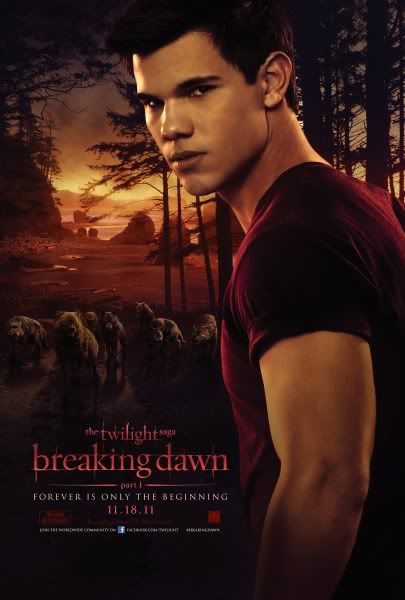 Team Jacob Black!
i still love to say that! hehehe.. ahhh, i don't know what to say! ok take-off your short more! huhu.. ei, i also can't wait to watch
Taylor Lautner
in his new movie entitled 'Abduction' this is something new isn't it! i will watch that! And yes i can't wait to watch him in Breaking dawn! :D
This is
the official Trailer of Breaking Dawn Part 1
.. so how was it? theres so much comments about this.. but different people comes in different perspective. I'm ok! yg penting aku suka.. huhu..
My fovourite line:
''You giving me no choice''
- Edward Cullen
''If you kill her, you kill me''
- Jacob Black
Scrambled egg! is it? i read too much books that i forgot what was that.. whoot! such a bedazzled Edward Cullen. Hot!! should try watching his new movie 'bel ami' and 'water for elephant'
Ok that's a wrap. I think this is the last post that i'll be update for this mean time.. i'll be back Insya Allah in October with more amazing, greatest story ever! i need to focus something important. So enjoy with my Vampire, werewolves life!
Sincerely,
wolf girl
Labels: 2011, Bella Swan, blog, Book, Breaking Dawn, Edward Cullen, Jacob Black, Robert Pattinson, Twilight
♥just smile
7:41 AM

Sunday, September 11, 2011
So far as i expected during my Raya celebration was average. I am not enjoyed and celebrated my Raya too much. Over all this is what i got for you guys. Please do not grab this pictures without my permission. Even my permission, i doubt to give it to you..huhu.. so have fun!
The photo collage Me and Mariah Maisarah
The Raya photos of Mariah Maisarah, my little cute niece.. i think this is all from me now..
Au revoir~
Labels: 2011, blog, September, Syawal
♥just smile
11:24 AM

Thursday, September 1, 2011
Assalammualaikum everyone,
Alhamdulillah Syawal datang kembali...
Alhamdulillah my 1st day of Raya also amazing too, compare with last year where i just stayed in the room and scolded by my sister and bro-in-law because of my stupid stealing.. i don't want to talk about it..
So how are your Eid Mubarak going on there?
Ok, i don't want to write more..
Enjoy your Raya for all Muslim out there..
Happy Eid Mubarak to my family, friends, teachers and students...
^^
♥just smile
1:11 PM